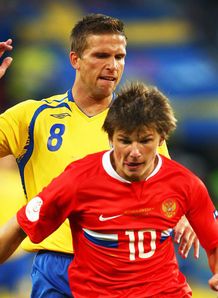 Zenit St Petersburg playmaker Andrei Arshavin is threatening to buy out his contract at the Russian club after weeks of uncertainty over his future. The 27-year old has been heavily linked with a move to the Premier League in recent weeks, with Arsenal understood to be in talks with the club, however no fee has been agreed due to Zenit's hefty demands for the player.

It was confirmed several weeks ago that Arsenal had entered negotiations with Zenit about the possibility of taking Arshavin to the Emirates, with Arsene Wenger admitting he is a player he would love to sign. It is understood that Arsenal made a bid of £12 million for the player which was rejected and now Arshavin's agent, Dennis Lachter has had this to say : "Unfortunately in this matter there is no movement,"

"The sticking point is, of course, money and rather the totally unacceptable amount of Zenit's demands for Andrei ... The position of the club remains unchanged and that is the reality that we have faced for a long time ... If the situation remains unchanged we will use Article 17 of the Fifa rules and buy out the contract of Andrei at the club, which could happen as early as November this year."

Lachter added : "If Andrei becomes a free agent, he will get many proposals, from England, Italy and Spain." The sooner Arshavin comes to the Premier League, the better. There is no doubt Arsenal could really use him at the moment and I am sure Wenger is desperate to bring him to the club before the transfer window closes on February 2nd. I think Zenit are being a tad bit greedy in this situation and I hope they accept that they can no longer hold onto the player and finally let him go in the coming days.
0 comments: