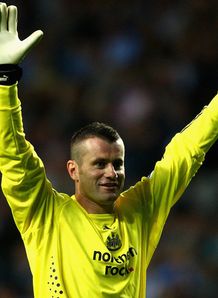 Newcastle manager Joe Kinnear has today told Arsenal, Manchester City and Tottenham that Magpies keeper Shay Given is not for sale. The Republic of Ireland international is heavily fancied to leave St James' Park this month, with Arsene Wenger, Mark Hughes and Harry Redknapp all interested in the player, however Kinnear has today told them to look elsewhere for a new keeper.

Newcastle currently sit 14th in the Premier League table and according to Given's lawyer, Michael Kennedy , the player is considering his future at the club following the side's most recent defeat to Liverpool.

When asked about the possibility of Given leaving the club this month, Joe Kinnear had this to say : " He is our player and he is going to stay our player, it's as simple as that ... We are not interested at all in selling him. I want to clear that - that is probably the last time I will be talking about it ... He is an integral part of the team, he is the best goalkeeper by miles in the league, so why should we jeopardise our chances in the position we are in?"

Although Kinnear has made these defiant comments regarding Given's future at the club, I still wouldn't be surprised to see Given force his way out of the club in the coming weeks. Shay has never hid his desire to win trophies in his career and with no disrespect to Newcastle, he is not going to win a single one on Tyneside. Personally, I feel a move to Manchester City may be in the offing considering the club's new found wealth.

Given would be a cracking signing for your team. Yes the little shot-stopper costs just £3.5 million in this season's "You the Manager" and in my opinion is a real bargain. So follow the link below to enter your team for a chance to win some terrific weekly and monthly prizes.
0 comments: