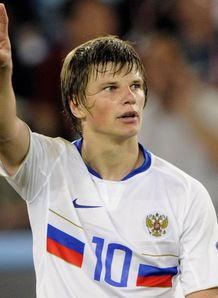 Zenit St Petersburg playmaker Andrei Arshavin is on his way to London to discuss personal terms with Arsenal. The Russian international has been linked with a move to the Emirates ever since the transfer window opened on January 1st, however Arsenal's reluctance to cough up the £15 million needed to sign the player has seen the deal drag on for quite a while.

It was reported yesterday that Arsenal had already applied for Arshavin's work permit. That was accepted and now a move looks to be gathering pace. The 27-year old has always maintained he would love to leave Zenit and move to the Premier League and Gunners boss Arsene Wenger would be delighted to have him at the club.

"He's a guy who can go past people in the final third ... He can have the key, individually and collectively ... He is an experienced player, 27, a good age and we are a very young side. We will not have Fabregas in the next six to eight weeks, we will not have Walcott in the next five weeks, Rosicky in the next eight weeks."

Personally, I think this is great news for Arsenal fans. It it is clear that they are a little short in the midfield department and I feel Arshavin's arrival will go a long way to fixing that. I have always been a massive fan of Arshavin's and I must admit I am delighted to finally see him coming to England. Stay tuned to Football Corner for all the latest on this and much more in the coming days.
0 comments: