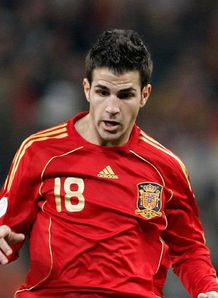 Arsenal captain Cesc Fabergas has today admitted he would like to leave the club once his current contract runs out at the club. The Spanish international has been repeatedly link with a move to La Liga giants Barcelona over the past 18 months, however it now appears as though they will have to wait until 2014 to sign the player.

Fabregas, 21, was recently handed the captain's armband at the Emirates following William Gallas' negative comments regarding his team-mates. The former Barcelona youth player had this to say about a possible move back to the Catalan giants : "Right now I am very happy and very motivated and to be captain is an even bigger incentive. At some time I would like to return to Spanish football. It is an experience that I would want some time it in the future."

Fabergas went on to say : "The idea has always been the same, I signed a very long contract but what happens is that in football nobody has a guaranteed position anywhere." I feel once Fabregas does eventually leave the Premier League it will be a massive loss for the English game. He has undoubtedly been one of the best players in the league over the past two years or so and I think Arsene Wenger will have his work cut out to find a player to replace him. Ah well, he has about five years to do so.

Wouldn't you just love to have Fabregas in your starting eleven? Well here's your chance. Fabregas costs just £7 million in this season's "You the Manager" and in my view is a definite bargain. So follow the link below to enter your team to be in with a chance of winning some terrific monthly and weekly prizes.
0 comments: