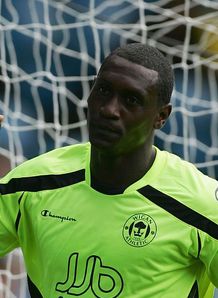 Liverpool are to make a £4 million bid for Wigan striker Emile Heskey when the transfer window opens next week. The England international looks more than likely to leave the JJB Stadium in January after Heskey admitted he wasn't interested in extending his current deal at the club (which runs out next summer).

Liverpool boss Rafa Benitez is keen to add to his attacking options when January comes around and Heskey is seen as a possible acquistion. Heskey, 30, spent four years at Anfield, scoring over 50 goals during his time at the Merseyside club. It is understood that Heskey would be interested in a return to Liverpool, however Wigan boss Steve Bruce is desperate to hold onto one of his most prized assets.

It would not surprise me one bit to see Heskey in a Liverpool shirt come February. In recent months he has began to reproduce the kind of form that made Liverpool cough up £11 million for him back in 2000. I feel he would prove a bit of a bargain should Liverpool snap him up for just £4 million, although I don't think Benitez will be alone in his interest of the player.
0 comments: