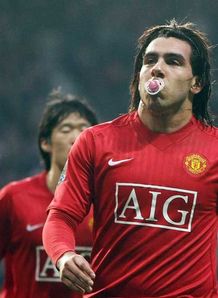 Manchester United striker Carlos Tevez is ready to leave Old Trafford to join La Liga giants Real Madrid. The Argentine international is understood to be fed up with sitting on the bench at the Premier League Champions and is now preparing for a January exit.

United boss Sir Alex Ferguson has always spoke of his desire to sign Tevez on a permanent basis after his two-year loan deal expires, however as yet the club haven't agreed a fee to sign him. Real Madrid manager Bernd Schuster is desperate to bring a new striker to the Bernabeau in January, with Ruud Van Nistelrooy currently out of action for some time.

United will have to cough up £32 million to sign Tevez, a figure which the Champions League Champions are currently unwilling to pay. Following the arrival of Dimitar Berbatov at the club in the summer, Tevez has found first team opportunities hard to come by making a January move to Madrid a real possibility.

It will be a real shame to see Tevez leave England because he is a magnificent player. I personally feel he has been harshly treated at United because during his first season he was tremendous and played no small part in the club winning two trophies. Tevez is a fighter and I am sure Premier League defenders will love to see the back of him. Wherever he does end up, I certainly wish him all the best.
0 comments: