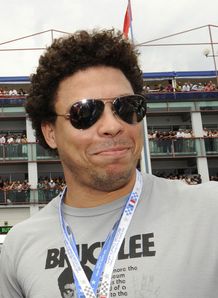 Brazilian striker Ronaldo has today claimed he is close to joining Manchester City. The former Real Madrid man has been linked with a move to the world's richest club for months now after it was reported that City manager Mark Hughes wanted to bring the former World Player of the year to Eastlands.

The 32-year old had this to say : "I am at 70 per cent. In other words, very close to playing again. "I know that there's interest from Manchester City - and I am focused on my recovery to explore this." His representative Fabiano Farah said: "We want a project that will live up to the history of Ronaldo."

Although I have always wanted to see Ronaldo come the Premier League, I question Ronaldo's motives in making a possible move to City. It is obvious to me that Ronaldo is looking to make a bit more money before he calls it a day and City's new Arab owners will have no problem offering him mega wages.

Looking good Ronaldo!
0 comments: