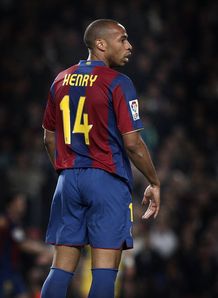 Barcelona striker Thierry Henry has today ruled out a January move to England after weeks of speculation over his future at the La Liga giants. The French international has been repeatedly linked with a return to the Premier League with Chelsea and Manchester City understood to be interested, however Henry has now pledged his future to Barca.

Henry, 31, has been at the Camp Nou since leaving Arsenal last summer after spending nearly eight seasons at the club. Ever since he left the Gunners their has been talk of a possible return to England but today Henry has definitely put those rumours to bed.

Henry told Catalan's Hora Q television programme : "I am very clear about this and I am happy here, I do not see myself playing in England ... I could maybe do some great things in England, but I have not won anything with Barca and I have to stay ... It is not that I really want the Champions League, it is because I want to win the league and Copa del Rey.

"I am happy, yes. I have said so many times. I like the city, the food and the climate ... When I put on the Barcelona shirt before going out on to the pitch it is an incredible moment. Last year it was not so incredible, but it was an honour to play." Personally, I would love to of seen Henry return to the Premier League. He was and still is an exceptional player who would no doubt of strengthened either Chelsea or City.
0 comments: