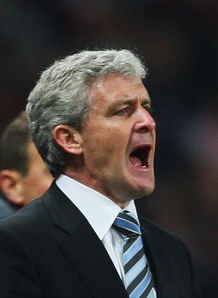 Tottenham have today strongly denied reports that they are to offer Manchester City's Mark Hughes the manager's job at White Hart Lane. The former Welsh international has only been at Eastlands for three months since leaving Blackburn during the summer, however it was reported this morning that he was to be offered the job at Spurs.

With Spurs currently lying rock bottom of the Premier League, Junade Ramos' position has come under increasing pressure leading to speculation that he is to be replaced at the helm. The club released this statement this afternoon.

"An article on the back page of this morning's Sun newspaper reports that the Club has made an offer to Mark Hughes to take over as manager during the forthcoming international break. This story is completely untrue and without foundation and the matter is being discussed with the publication."

This is incredible. With Mark Hughes only in the door at the City of Manchester stadium and with the club the club's current financial situation why on earth would he want to leave. There is no doubt he is a quality manager and I personally think he would be a great manager at Spurs but come on, he's not going to leave City.
0 comments: