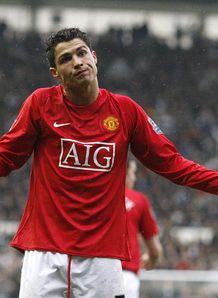 Yes, Real Madrid manager Bernd Schuster has today confirmed that the Spanish giants will be re-igniting their interest in signing Manchester United's Cristiano Ronaldo once the next transfer window opens. The Portuguese international was the centre of a massive transfer-saga in the summer, with Real rumoured to be prepared to spend as much as £80 million for Ronaldo.

Real manager Schuster told Spanish newspaper Marca : "We must do everything possible as it would be worth it to have this player ... I think this year it will be a little complicated for his club to hang on to him." The 23-year old has always spoken of his desire to join Real, however United manager Sir Alex Ferguson has maintained that he will not be leaving the club anytime soon.

Personally, last summer was just so boring. Listening and reading the same crap everyday about the future of Ronaldo was so frustrating at times. Please for the sake of January, give up Real and just let it be until next summer and them maybe make another bid for Ronaldo. Perhaps, United's local rivals Man City will come into the equation come January.
0 comments: