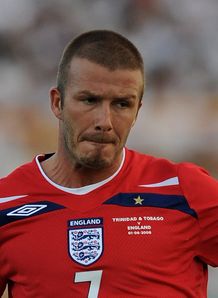 After weeks of speculation, it has been confirmed this evening that David Beckham will join AC Milan on January 7. The England international will spend two months on loan with the Serie A giants in order to try and maintain his place in Fabio Cappelo's plans for the national team.

The LA Galaxy midfielder was keen to leave the MLS club on a short-term loan deal in order to keep his place in the England team. The former Manchester United and Real Madrid star currently has 107 caps under his belt, one behind Bobby Moore who lies in second place behind Peter Shilton.

The 33-year old now gives Milan boss Carlo Anceolotti another option in midfield and will certainly add to the array of talent currently on show at the San Siro. LA Galaxy had to cancel a friendly game with Australian side Queensland Roar earlier this week because they could not guarantee that Beckham would be able to play.

Personally I hope Beckham does really well in Milan. He was and still is a terrific footballer who many of Europe's elite would love to have in their squad's. I am sure Cappelo is delighted that Beckham has made the move because it would of looked wrong for him to keep picking him if he wasn't playing any football over the winter.
0 comments: