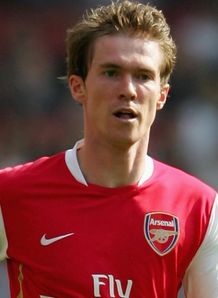 Barcelona midfielder Alexander Hleb has today admitted he is begging Arsenal midfielder Cesc Fabregas to come join him at the Camp Nou. The former Arsenal midfielder left the Emirates in the summer to join Barca and he admits he would love to Fabregas to move to La Liga to re-ignite their central midfield partnership.

Fabregas, 21, admitted during the week that it would be "a dream come true" to move back to Barca where he spent his days as a youngster. Despite signing a new deal at the club only last year (which will keep him at the club until 2013) Fabregas admits he will review his options at the end of the season.

Hleb, 27, told El Mundo Deportivo : "We get on very well on and off the pitch. For me he is like a brother. We call each other a lot to talk about things ... He tells me he misses me at Arsenal and, without wanting to detract from anyone, I would love it if he came to Barca to be a part of all this.

"I don't stop insisting that he should return to Barca and he doesn't stop insisting that he is very happy at Arsenal and with Arsene Wenger. "I will keep boring him until he changes his mind. If in the end he listens to me, I think it would be great for Barcelona."

I really hope Hleb stops pestering Fabregas to join him in Spain because I want Fabregas to stay in the Premier League. He is without doubt one of, if not, the best player in the league and I feel he would be a massive loss for both Arsenal and the league itself. I am sure Arsene Wenger will not be overally happy to hear Hleb trying to persuade Fabregas to leave the Gunners.
0 comments: