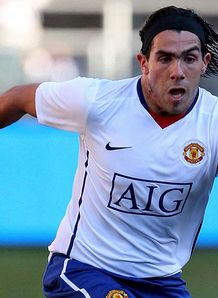 Manchester United boss Sir Alex Ferguson has today admitted he has held talks with United's Argentine striker Carlos Tevez in a bid to keep him at the club. Tevez' two-year loan deal at the club is set to expire at the end of this season and so far United have been reluctant to cough up the £32 million needed to make the deal permanent.

Following the arrival of Dimitar Berbatov, Tevez has found it hard to keep his place in United's starting eleven which has led to speculation that he may leave Old Trafford once the January transfer window opens. Both Real Madrid and Manchester City have been linked with the player in recent weeks, however as of now neither club have made their interest known.

Ferguson told The Guardian this in relation to the matter : "I sat down with him only last week to stress that our faith in him is absolute and, that he remains a top player in the eyes of myself, the players and supporters .... It's just that three players won't fit into two positions and my job is to balance the team .... Carlos understands this and I have explained that when the season really hots up we will need everyone."

It is clear that Ferguson is getting worried that he may not be able to sign Tevez on a permanent deal. I would not be one bit surprised to see Tevez leave the Premier League and Champions League Champions this winter. I personally feel Tevez is without doubt one of the best strikers currently playing in Europe and I am sure he does not want to be sitting on the bench every week waiting for his chance. If he is to leave United, a move to Real Madrid is a real possibility however he may want to stay in England and join money-bags Man City.
0 comments: