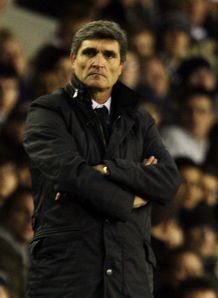 Tottenham fell to their third defeat out of four games in the Premier League last night to leave them sitting rock bottom. Many people had speculated that this season could see Juande Ramos' men break into the top four, due to signings like Giovani Dos Santos and David Bentley but unfortunately for the North London club the reverse has happened.

Two 2-1 defeats at White Hart Lane and another 2-1 defeat away to Middlesbrough leaves Spurs on one point. That one point was earned at Stamford Bridge, a terrific point really considering Chelsea's form this season.

So just what has gone wrong? Too many players coming in, finding it hard to gel? Can't cope without Dimitar Berbatov and Robbie Keane? I am really shocked and surprised by the start Tottenham have made. It will be interesting to see how they bounce back from this latest set back at home to Wigan next weekend.
1 comments:
I have not actually seen them play this season yet (maybe not a bad thing!). However, I was surprised to see the departure of a complete strike force, all of full international stature. The genius of Berbatov, the work rate and ability of Keane, and the diminutive but maybe underated Defoe. To be prepared to lose all of them at the same time seemed to me pre-season to be a disastrous mis-judgement. The fact that Berbatov was so keen to leave Spurs, and the fact that Keane and Defoe were also happy to move, is indicative perhaps of a lack of confidence in the ability of their manager. That to me is a telling factor, and the manager does not as yet seem to be able to mould his incoming players into a realistic team, or to be able to motivate them. Compare that with, for example, Hull City. Their result against Arsenal is not so surprising, given their commitment and self-belief. So now we shall see what the Manager is made of, and whether the Board has the guts to continue to back him. He at least has the right to expect commitment, etc from his players. Were it me, I would not pay any of them until they gave me some results. Or I would drop the lot, and put in a bunch of - motivated - youngsters instead, until they got their act together. Ultimately, I feel the manager fell into the age old trap of trying to change too many players at once. Keep your proven players, and gradually work the new youngsters in with them. I don't agree with this policy of trying to "buy" success. I simply just don't think it works!