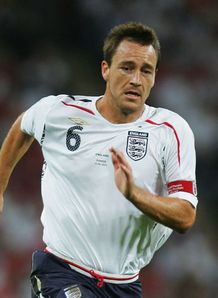 Chelsea captain John Terry has had his red card he picked up against Manchester City on Saturday rescinded, but why am I not surprised? It was a rugby tackle on City's Jo that earned the England captain the red card and there was no surprise to see the Chelsea players doing the usual, surrounding the referee after the decision, what ever happened to respect the ref?

Terry, 27, is now free to face Manchester United next weekend and this will obviously be a huge relief for Chelsea boss Luis Filipe Scolari. It comes as no surprise to me to see the red card rescinded. Although red card's are rarely rescinded, he is the England captain and the FA would of rescinded the card anyway, even if he had of broken a players leg.

I am telling you now, if it had of been any other player in this situation, the FA would not of rescinded the card.
0 comments: