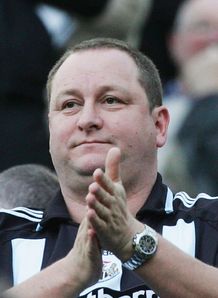 Newcastle United's problems continue today as Mike Ashley has now appointed London-based investment bank Seymour Prince to help push through the sale of the club. Magpies owner Ashley confirmed last week he is keen to sell the club after a nasty fan backlash to Kevin Keegan departing the club two weeks ago.

Keith Harris, the chairman of Seymour Prince, has been involved in some of the biggest deals in the Premier League in recent years including the sale of Chelsea to Roman Abramovich and Randy Lerner buying Aston Villa.

A Newcastle statement said: "The board of Newcastle United can confirm it has appointed the London-based investment bank Seymour Pierce to act on the potential sale of the club.

"All matters relating to the sale of the club, including inquiries from interested parties, should go through Seymour Pierce. "The club will be making no further comment at this time." I personally hope this will push through any deal for Newcastle because it is such a shame to see such a big club being dragged through the dirt like this.
0 comments: