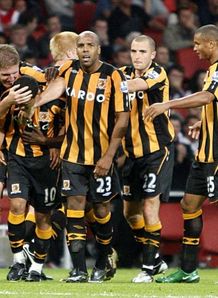 Hull City have this evening beaten the might of Arsenal in their own backyard. It is, undoubtedly the result of this season's Premier League and Hull manager Phill Brown can take a tremendous amount of credit for it.

Brown started with a very attacking line-up, a move that many people felt would see Hull be humiliated but that was far from the case. The sides went in level at the break with Arsene Wenger's men probably having the better chances to go in front but it all kicked off in the second 45.

The Gunners took the lead just after the interval when Theo Walcott delivered the ball into Cesc Fabregas who saw his shot deflected off Paul McShane into the Hull net. But, to everyone's amazement, Hull equalised just fifteen minutes later through a superb 25-yard striker from summer acquisition Geovanni.

It was another summer signing that won the game for newly promoted Hull. Former Rangers striker Daniel Cousin headed home a Andy Dawson corner to send the travelling Hull fans crazy. Arsenal captain William Gallas nearly earned a point for the hosts late on, but he saw his header cannon off the bar.

Outstanding. This is one of the most incredible results of Premier League history. The might of Arsenal being defeated by the newly promoted Hull. This isn't really what Wenger had in mind considering he rested his good players for Tuesday's cup tie with Sheffield United to save them for today.

Elsewhere in the Premier League it finished : Manchester United 2-0 Bolton, Everton 0-2 Liverpool, Stoke City 0-2 Chelsea, Fulham 1-2 West Ham, Newcastle 1-2 Blackburn, Aston Villa 2-1 Sunderland, Middlesbrough 0-1 West Brom.
0 comments: