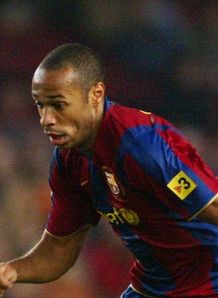 Former Arsenal striker Thierry Henry has today admitted he may consider leaving Barcelona if he does not get more first-team action.

The French international has made just over 50 appearances for the La Liga giants since joining last summer, however he has admitted he may consider leaving in January.

"For now, it is not a topical matter but if things stay the same, of course we will have to talk about this." said the 31-year old. Henry spent over seven years at Arsenal, scoring an impressive 226 goals in all competitions for the Gunners and he has been linked with several returns to the Premier League in recent months.

I think it would be great for Henry to come back to England. It is clear for all to see that it hasn't really worked out for him in Spain and I feel a move to Manchester City or Arsenal could be on the cards come January.
0 comments: