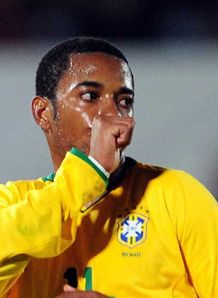 Robinho finally got his Premier League career under way today after what has seemed a life time since he has joined Manchester City. The Brazilian international sensationally joined the Blues on transfer deadline day two weeks ago for a British transfer record fee of £32.5 million and today made his debut against Chelsea, a team whom were also interested in him.

He couldn't of got off to a better start. A stunning free-kick inside fifteen minutes put Mark Hughes men ahead, which was followed by his trade-mark sucking of the thumb celebration. The City fans were on cloud nine, their new star man putting them in the lead against the might of Chelsea.

But as the game wore on and Luis Filipe Scolari's men took a firmer grip on proceedings, the flamboyant Robinho faded out of proceedings. He had his occasional step over, the odd good pass or two, but, for me, he looked a bit lost. I am a City fan myself, and seeing Robinho score early on was amazing.

He did run back to help defend on occasions but the one thing I wasn't happy about was his attitude at times. Whenever one of his team-mates lost the ball, he didn't encourage, he just threw his eyes up to heaven and that is no what I like to see from a top class player. He is coming to the club with a massive reputation and he knows he is the best player their, but I didn't like his attitude at times.

Anyway, Let's look forward to Thursday when City face Omonia from Cyprus in the UEFA Cup first round, shall we.
0 comments: