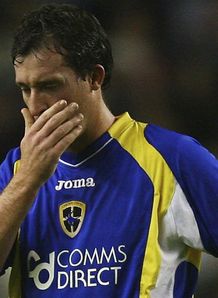 Former Liverpool striker Robbie Fowler has today signed a pay-as-you-play deal at with Blackburn Rovers after months of speculation over his future. The former England international has been out of a job since leaving Cardiff City during the summer and he has been linked with a whole host of clubs in the process.

Norwegian side Brann Bergen had approached the 33-year old about a possible move, however Fowler's massive wage demands put them off. Blackburn chairman John Williams : "We have agreed in principle a three-month pay-as-you-play deal and we hope to have it tied up by the end of the week,". "If we go ahead on that basis and get it registered then if the manager wants him he would be able to be in the squad against Arsenal on Saturday."

I'm not sure what to make of this move by Rovers boss Paul Ince. It is clear to see that Fowler's best days are most definetly beyond him and I don't think a club like Blackburn should be taking a backward step like this. Fowler is 150/1 to be the Premier League's top goalscorer this season, brilliant odds!
0 comments: