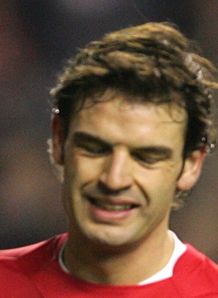 Former Real Madrid and Liverpool striker Fernando Morientes has today admitted he would be interested in a move to Tottenham, if they were to approach him. The Valencia front man left the Premier League two years ago after spending just a season at Anfield, where he struggled to reproduce his best form. (Daily Mirror)

The former Spain international is believed to be keen on leaving Valencia come the opening of the January transfer window and Junade Ramos is ready to offer him an exit route. After the departures of Dimitar Berbatov and Robbie Keane during the summer it obvious now that they must bolster their attacking options come January.

I personally feel signing Morientes would be a backward step for Spurs. They brought in a lot of young talent during the summer and I think bringing a 32-year old to White Hart Lane would not be a smart move. I think if Spurs were to re-ignite their interest in Andrei Arshavin would be a smarter move by the North London club.
0 comments: