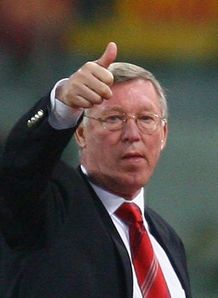 Manchester United manager Sir Alex Ferguson has today praised referee Rob Styles. United profited from an extremely poor penalty decision from Styles during their 2-0 win against Bolton at Old Trafford on Saturday.

Cristiano Ronaldo was taken down by Bolton defender Jlloyd Samuel, however replays clearly showed Samuel getting a touch on the ball. Ronaldo stepped up himself and put United ahead, to leave Bolton boss Gary Megson furious at ref Styles.

Styles has since apologised, an apology which has been met with praise by the United manager Ferguson. "It's good that Rob's done that. I think it presents him in a different light, It shows character. It presents him that he's big enough to do that. So I think he takes all the credit for that."

It comes as no surprise to me to see Ferguson come out with these statements because someone has to show some support for Styles and who better to do so than the man who profited most from the decision. I would believe the comments more if they had come from Bolton boss Megson, but I shall think he is still fuming from the shocking decision.
0 comments: