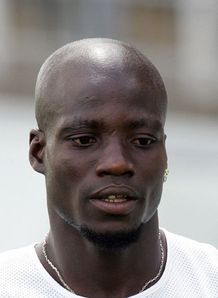 Chelsea are to join the race to sign Arsenal target Steven Appiah. The former Fenerbahce midfielder left the Turkish club earlier this summer and is keen to come to England, with Arsene Wenger and now, Blues boss Luis Fillipe Scolari keen to offer him that chance to come to the Premier League.

The Ghana international could fit straight into Scolari's starting eleven with current holding midfield player Michael Essien likely to be out for up to six months. The 27-year old has earned the nickname "Tornado" due to his dominance in the midfield and is widely regarded as one of Africa's finest talents.

If either side were to sign Appiah it would be magnificent. He is a superb player who, I feel would prove a massive hit in the Premier League and his price-tag isn't bad, £0. I think Arsene Wenger is very short in the midfield department and he should do all he can to capture the former Juventus man.
3 comments:
Have you been off the planet?

Wenger came out over a week ago and said he was not interested in Appiah.




Gawd I don't know how many times we have to come out and say that The Arsenal aren't in the race for him - HE'S NOT WANTED