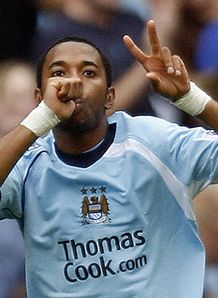 Yes, Manchester City striker Robinho has today claimed he has not peaked yet. The Brazilian international made a shock move to Eastlands on transfer deadline day and has since proven a massive hit in the Premier League scoring two goals in two games.

The former Real Madrid striker told the Daily Star : "In a few weeks' time fans in England will start to see the real Robinho, I have already noticed at City there is a far better atmosphere in the dressing room then we had at Real Madrid.

"I want to do as well as we can this year and then try and play in the Champions League as quick as possible. We know that will be difficult but we have to have ambition." After signing for City on September the first for a British record transfer fee of £32.5 million many people in the game questioned the move but it has proved to be an excellent one so far.

There is no doubting that Robinho is an outstanding player and he has certainly shown some jaw-dropping stuff since coming to England but I just hope he can keep it up. If Robinho is serious and he can produce even better performances that what he has already shown then this is obviously worrying times for Premier League defenders.

0 comments: