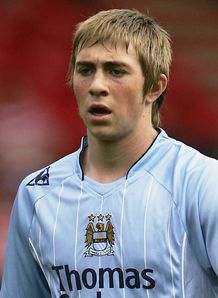 Arsenal and Liverpool have missed out on Manchester City midfielder Michael Johnson after the player signed a new long-term deal at Eastlands. The England under-21 international had been heavily linked with a move to either Anfield or the Emirates but the chances of a move now are dead.

Johnson, 21, has made a major impact at the City of Manchester stadium since breaking into the first team almost eighteen months ago. Both Rafa Benitez and Arsene Wenger were extremely keen to persuade Johnson to leave City, with a £12 million bid being rumoured by both sides.

I am delighted to see Johnson opt to stay at City, largely down to the fact that I am a City fan myself. I also think it is a very intelligent decision from the player who will benefit greatly from this decision because if he had opted to leave he would not of been guaranteed a first team place at Arsenal or Liverpool.
0 comments: