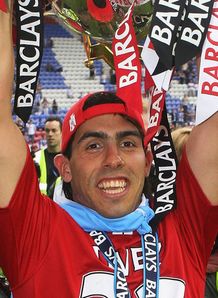 Manchester United are set to sign Carlos Tevez on a permanent basis for a fee believed to be £35 million. All the money from the sale will go to Tevez' owner Kia Joorabchian, who is the head of Media Sports Investments.

Tevez made a big impression at Old Trafford last season scoring 18 goals since his move from fellow Premier League side West Ham. If the £35 million deal does go through, Tevez will become the most expensive player in British history, smashing the record by a whole £5 million, since Chelsea signed Andrei Shevchenko two years ago for £30 million.

I understand Tevez is a terrific player and nearly every manager in Europe would love him in their sides but I wouldn't be paying £35 million form him. More like £26 million for the little Argentine would be a fairer estimate of his ability. The 24-year old must be worth a look at for this seasons "You The Manager" (through the link at the top) and at £7 million he is most definitly a bargain.
0 comments: