Barcelona are today closing on the signing of Arsenal midfielder Alexander Hleb after weeks of speculation over the players future. Hleb has also been linked with Real Madrid, Inter Milan and Bayern Munich but it looks more and more likely today that Barca will be the ones to sign him.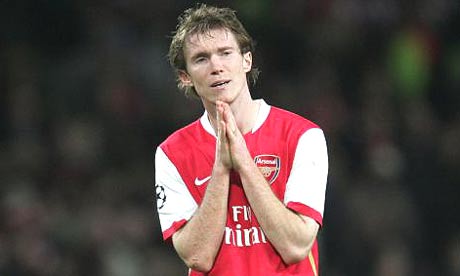 Hleb, 27, had admitted that he couldn't settle in London after three years at the club and that led to intense speculation about the Belarus international's future. He has made over 100 appearances for the Gunners and Arsene Wenger was said to be disappointed to be losing Hleb. Barcelona vice-president Marc Ingla revealed on Catalunya Radio: "Barcelona's negotiations with Hleb are still in progress.

This move now clears the way for Marseille midfielder Samir Nasri to move to the Emirates after weeks of speculation over his future. The 20-year old is said to be very close to agreeing terms with the club which will see him join Arsenal for £12 million. I feel this move for Arsenal can only be good. Bringing in a terrific young talent like Nasri will quickly help the Arsenal faithful forget about Hleb.

Taken from Terrace Views.
0 comments: