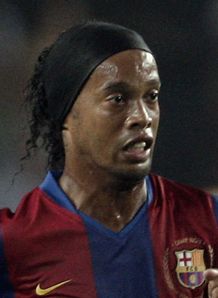 Inter Milan boss Roberto Mancini has confirmed his interest in bringing Barcelona attacking midfielder Ronaldinho to the San Siro.

The Brazilian international has had a poor season by his standard's and there has been talk he may be on his way out of the Camp Nou.

Inter boss Mancini said : "Two months ago I said Inter were going to sign Ronaldinho," said Mancini. "And no one believed me, in fact everyone started laughing.
"I don't think it would be a problem fitting him into a squad. Ronaldinho is a great player. "What's more important than behaviour is that a champion steps onto the pitch and changes the game and Ronaldinho does that always."

I personally feel Ronaldinho should join AC if he gets the chance. He currently isn't doing the business at Barca and I think it's time he decided he should quit the La Liga outfit but wheter or not Frank Rijkaard will be willing to let him go or not is another question.

1 comments:
Who else thinks that sport has gone too far? I mean there is so much money involved in sport now that there is very little sport left anymore. Sport spread betting used to be frowned upon when I was a kid as it made people desperate for money to bet with but now it's nothing compared to how disgraceful a footballer's salary is! These people train a few times a week and play one game a week if they're lucky and get paid a week more than I earn a year! And yet no authority has ever questioned it! Why!? There's a minimum wage, why can't there be a maximum wage as well based on the type of job? So all you betters out there, why don't you start spread betting on how much players are going to be paid next instead of what used to be sport?