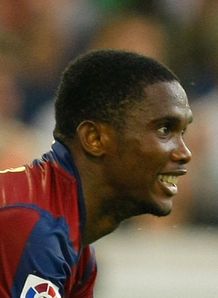 According to reports in the News of the World Chelsea striker, Claudio Pizarro is being targeted by Serie A side Lazio. Rumours in a few other of today's papers are linking Chelsea with Sam Eto'o in what would be a £40 million replacement for Pizarro.

The former Bayern Munich star only joined the Londoners last year but has failed to make a huge impact at Stamford Bridge where he is competing for places with Drogba, Shevchenko, Kalou and now Blues new boy Nicolas Anelka.
However, Lazio are thought to be very interested in bringing the Peruvian international to Italy where he would be be much more likely to get first team football.
Chelsea have been linked with Samuel Eto'o in recent weeks and I would think that he would be the replacement at the club should Pizarro leave. Although rumours which are linking Eto'o with Chelsea are putting a £40 million price tag on the Cameroonian.
Personally, I would love to see Eto'o play in the Premier League but at the price which he is being linked with I think that it would be a big risk for Chelsea to take.
2 comments:
Pizarro is better than any of the attackers in Chelsea, but he is out of rhythm since he is let in games for 15 minutes during the whole season and in a position that is not his usual. He has won many awards and is very talented saving Bayer Munich many times from sure defeats, is one of only 4 players to score over 100 goals in Germany.
Chelsea needs a new coach!