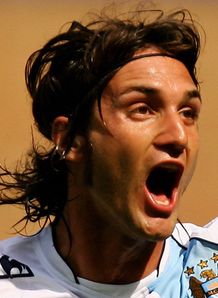 Manchester City striker Rolando Bianchi has tonight leftthe club on a six month loan deal which sees him join Serie A side Lazio.

The Italian striker only joined the Blues in the summer for a fee of £8.8 million and he has failed to live up to expectations, thus seeing him leave the City of Manchester.

Bianchi admitted that he was finding it hard to settle in England and that a return to Italy would be best. "I had a couple of other very interesting offers but I chose Lazio for my future and because I wanted to be valued in a very great team," Bianchi told Lazio's official website.

"It was a choice that I thought about and thought about again so now I am sure that it is the right one and the future will prove it."First I will have the opportunity to play and, moreover, I will be happy.
"I was pleased to meet the other Lazio players. I have the impression that they're a very united group, which is right when you want to build something solid for the present and the future."

City have been linked with numerous amounts of strikers in recent months, but as yet, Eriksson hasn't brought anything in. He only has Vassell and Mpenza now and I my view he really needs to strengthen before the window shuts next Thursday.

Taken from Manchester City FC.

0 comments: